Rewriting History
Phoebe Man
2009 -12
The number of reported indecent assaulted cases has increased rapidly in Hong Kong. There are news about sexual assault almost every day. "Share indecent assaulted experience" was a hot topic on a popular Hong Kong forum (uwants.com) on the Internet. It shows that sexual assault is a serious and common crime in Hong Kong.

"Rewriting History" is a series of art works that address the issue of indecent assault. Through releasing memories and imagination, making destruction and construction, the works have tried to confront the misconceptions of the society and to arouse more discussions on this topic.

"Rewriting History" used a different format to express the topic, including writing, paper cutting, installation, animation and interactive installation. Compared with works of similar topic which put emphasis on the impact, Phoebe's works are subtle and have kind of psychological undercurrents.
Individual idea of different verisons of "Rewriting History"
1. creative writing 2008
For the written version (http://www.cyman.net/RW/stories.pdf) the artist rewrote stories of her own and other impressive stories told by some sexual assault survivors. It aims to organize thoughts, reflect the reality, and to have paradigm shift.
2. paper cutting 2008 - 2010 (http://www.cyman.net/RW/paper/main.htm)




When looking at the paper and thinking of how to deal with the stories, Phoebe wanted to show her feelings and thinking through cutting and sculpting these paper. The paper cutting version is about the trauma of the victims, the misconceptions of sexual assault, the desire for a supportive society and the encouragement of the offenders to cease committing crime.

For the form "paper cutting" (Jianzhi), which has a history of over a thousand years. In ancient times (Northern and Southern Dynasty, 420 to 589 AD), paper cutting was commonly practiced by women to decorate their homes.Paper cutouts were used to express their thoughts and were an important part of the social life. When girls invented some new patterns, they would share them among themselves. They also use Jianzhi to express their thoughts. Although Jianzhi is not regard as "high art", it is a hands-on way of art expression which can reflect the inner self sometimes. Phoebe feels connected to this ancient women art. She likes to have dialogue with paper and explore the potential of it. It could be a form of respect.

3. Installation, 2010-2012
Phoebe mixed the paper cutting with a cabinet. It is about the desire of hiding and releasing.
2010 version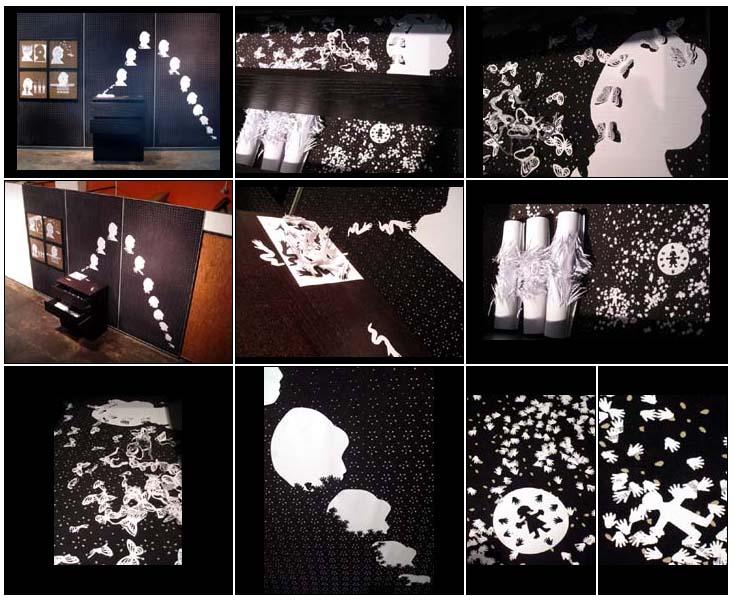 2011 version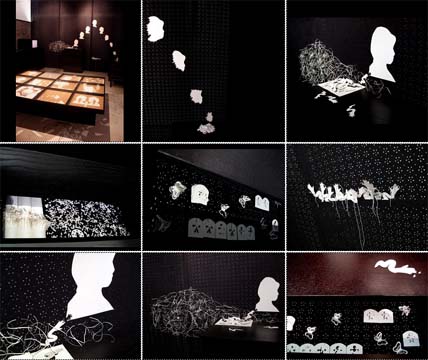 2012 January version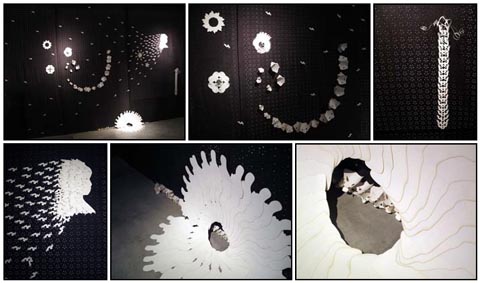 2012 April Version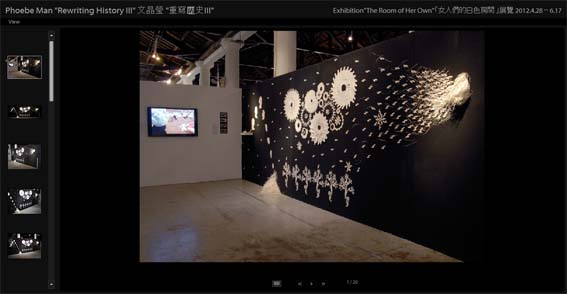 4 . animation 3mins 55second, Mini DV, Color, Sound., 2010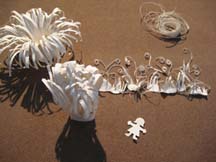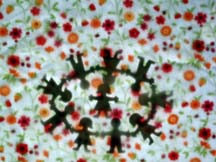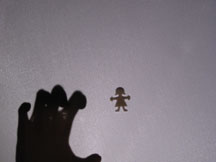 Excerpt:https://vimeo.com/146485513
When the artist was looking at her paper cutting, she could see them moving. Therefore she made an animation to put all the imaginative scenes together. There is a little girl fighting with a big hand in the animation. Big hand is a symbol of power. People sexual assaulted other people because of power. They need reassurance or they are assertive.

5. Interactive Installation, 2011
Concept/ Photo: Phoebe Man
Programmer: Ling Huang, John Ho
Video Documentation: http://www.youtube.com/watch?v=YoRobCarbw0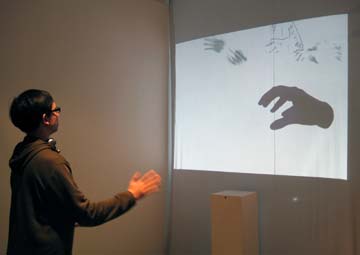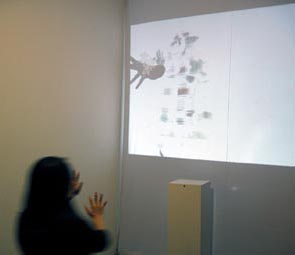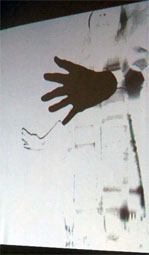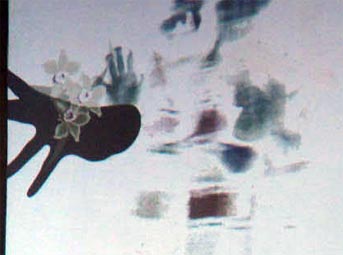 The big hand is a symbol of power. It will follow the audience. Hit the hand and it will turn to something good - flowers. It encourages audience to fight against the abuse of power.
6. Redo Suzanne Lacy's work "Rape Is" , 2012

In order to have more discussion on the issue of sexual assaults, a corner was set up in the show ("Let the Works Speak For Themselves") to let the audience express their views about what rape is. There were more than 140 posts in 4 days. The posts showed a variety of definitions related to the subject and also reflected the reality of the society. More....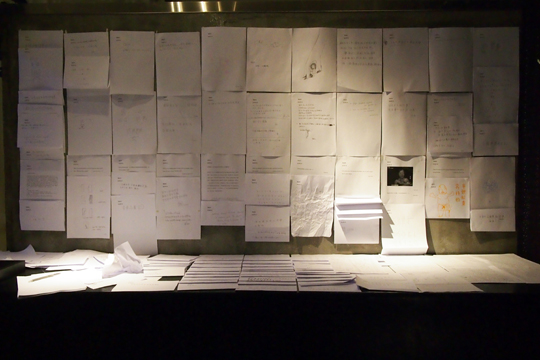 7. "Rape is" , 2013
The audience's posts expanded the definition of rape. This art work is inspired by the audience's posts and it is a respond to their posts.
More....
8. Relay , 2013
This art work collaborated with a survivor to generate positive energy.
More ...

Background
The sexual assault crime rates have been raising over the years as supported by Annual Reports of Hong Kong Police. There are 775 cases reported indecent assault and 54 cases reported rape in 2010 from January to June, around 20% increase when comparing with the same period in 2009. It cannot reflect the reality because most of the women did not report their cases. A research found that only 11% of victims reported their cases to the police (Ng 2005). Does it mean that people don't care about these crimes? However, impacts on victims are negative and could be life-long in some cases. Below are the words* from a sexual assault survivor.

KC, 50 years old, survivor of 2 rapes,
" One thing I always think about being a victim, now a survivor, I live a life sentence. Once I was a victim the first time I was stripped of my freedom. I haven't gotten that back in my fifty years. Freedom. They walk the streets and I live a life sentence. I'll live it to the day I die – I can't shake it."
"When both rapes happened, I learned the impact of fear – there was a knife in the first one and the second was physically violent so … I'm always worrying 'what if' … so I try to avoid it at all cost."
"You're kind of like a leper, too, if you've been raped."
(Reddington and Kreisel, 2009)

Why don't victims report their cases? Why do they only feel comfortable to mention their experience through anonymous channel? Why is the crime rate raising? Why is it hard to convict the offenders (a research found that only 18.4% of the offenders are convicted of sexual crime from 2001 to 2004, (Ng 2005))? Why do offenders commit crime? Why did they commit it over and over again and could not stop until they are caught by the police? (A research found that almost all of the offenders committed crime far more than the number of times that they are being arrested, some even did it hundreds or thousand times (Yuen, Working group on Assessment and treatment of Sex Offender 2004))

There are biological, psychological, sociological and Cultural reasons behind the crime. Mythologies of rape and indecent assault also contributed to the cause. Traditional gender roles and sexism are still common in Hong Kong. Art as a social force can be a mean to respond to this phenomenon.

Works Cited:
Ng, Irene. RainLily 466 Calls from the Victims: The problem of Sexual Violence Cannot Be Ignored. Association Concerning Sexual Violence Against Women, Jan. 2005.

Reddington, Frances P. and Kreisel, Betsy Wright (edited) .Sexual assault : the victims, the perpetrators, and the criminal justice system, Durham, N.C. : Carolina Academic Press, 2009.

Working Group on Assessment and Treatment of Sex Offender (edited) .The causes and treatment of sexual offenses. Clinical Psychological Service Branch, Social Welfare Department, Hong Kong, 2004.

Exhibition History:
Paper Cutting
2011 Rewriting History – Installation by Phoebe Man, Fotan Artists open Studios, Fotanian, Hong Kong.
2009 - 10 Fotan Artists open Studios, Fotanian, Hong Kong.
2010 Shifting Definitions, OV gallery, Shanghai, China.
2010 COLLECTIVITY, 1a Space, Hong Kong.
2009 A-USUAL OBJECTS, Experimenta, Hong Kong.
Installation
2012 The Room of Her Own, Kaohsiung City Government's Bureau of Cultural Affairs, Kaohsiung City Culture Foundation, Pier-2 Art Center, Kaohsiung, Taiwan.
2012 Let the Works Speak For Themselves: Installation by Sin Yuen and Phoebe Man, Fotan Artists open Studios, Fotanian, Hong Kong.
2011 Rewriting History – Installation by Phoebe Man, Fotan Artists open Studios, Fotanian, Hong Kong.
2010 Fotan Artists open Studios, Fotanian, Hong Kong.

Media Coverage
- Frank Vigneron, "Theory as Practice and Practice as Theory: Praxis and the PhD in Art", Proceedings of Symposium on Development of Arts Education, Hong Kong Art School, 2017, pp. 62-63. 
- Intimate Transgressions, Center for Asia Pacific Affairs, October, 2015, pp. 42, 43. [exhibition catalogue]
- Jen Lewis , Widening the Cycle: A Menstrual Cycle & Reproductive Justice Art Show, Blurb, May 2015, pp. 66 – 67. [exhibition catalogue] 
- The Room of Her Own, Bureau of Cultural Affairs Kaohsiung City Government, October 2012, pp. 80 – 83.   [exhibition catalogue]  
- Frank Vigneron, " Phoebe Man: Reecrire une histoire," PAROLES, Hong Kong, Nov/Dec 2012, pp. 32, 33.
- Hsieh Hui Ching and Peng Jia Huei, "The Slender and Tough Inner Strength, Women should Have Their Own Room (纖細而堅韌的內在力量,女人們要有自己的房間)" Artists, Taiwan, Volume 445, June 2012,pp. 326-8.
- Chak Chung Ho, "Feminist Trilogy and Phoebe Man Installation Art (女性主義三部曲及文晶瑩裝置作品)."Mingpao Monthly, Hong Kong, March 2011, pp.91-97.
- Chak Chung Ho, "Feminist Trilogy: Hong Kong Fotanian's Phoebe Man Installation Art Exhibition (女性主義三部曲——談香港伙炭「重寫歷史-文晶瑩装置藝術」展)." Artists, Taiwan, Volume 430, March 2011, pp. 334 - 337.
- Chris, "Rewriting History: Phoebe Man. If We Can Return to the Past (《重寫歷史》文晶瑩 如果可以重返過去)." Webgazine, CityReborn Volume 5, Hong Kong, February 2011, Web 19 October 2011日。
- Chak Chung Ho, "From Phoebe Man to Feminism (從文晶瑩談到女性主義)."Hong Kong Economic Journal, 17 January 2011, pp. 45.
- Max Chan, "Fotanian Open Studios 2011." C:, 16 January 2011. Web 19 October 2011.
- Edward, "Use Art to Rewrite History (用藝術來「重寫歷史」)." Hong Kong Daily News, 13 January 2011, pp. B12.
- Chris, "Rewriting History: Phoebe Man. If We Can Return to the Past (《重寫歷史》文晶瑩 如果可以重返過去)." Webgazine, Institute of Incest and Sexual Assault (亂倫性侵研究所), Taiwan, 8 January 2011, Web 19 October 2011日。
- CNNGo.com: What does feminism have to do with Chinese art?
OV Gallery's new exhibition, "Shifting Definitions," asks if women's issues are only Western issues [9.11.2010]
- am730: Art against Assault and Discrimination [12.1.2011] (Chinese only)