夢遊太虛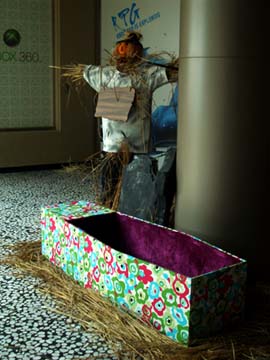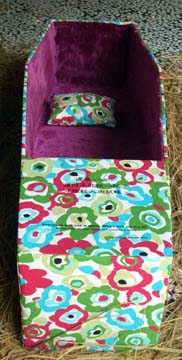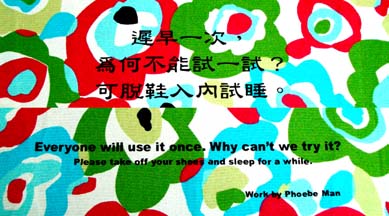 展覽 "萬聖奇棺"
數碼港商場
06/10/2007 - 31/10/2007
Exhibition "Caskets In Haunted Zone"
@ Cyberport Arcade

我們對棺材都有點避忌,可能是因為害怕死亡吧。但是主辦單位百無禁忌,在萬勝節推出棺材展覽,我想,不如再推一步,邀請觀眾試睡棺材,挑戰禁忌,所以我把棺材弄到顏色吸引,舒適像床。

藝術好玩的地方就在於此:離開生活的慣性,做些平常不會做的事情,為生活帶來多點想像。

Dreaming the Void
Coffins are taboo. I guess it might be because of the fear of death. Surprisingly, the organizer used coffins as a theme of an exhibition to celebrate Halloween. I think it might be nice to push it further to invite audience to rest in the coffin for a while to challenge the taboo.
It is the interesting part about arts. We can leave the routine, do something unusual and bring more imagination to lives.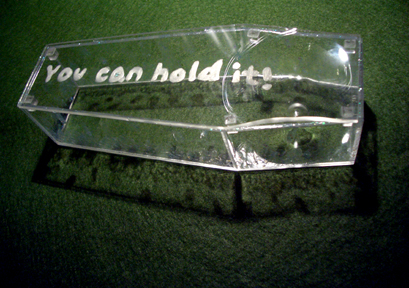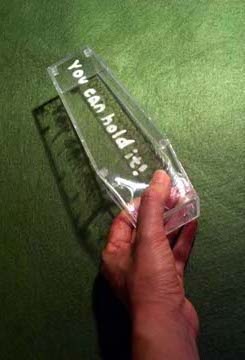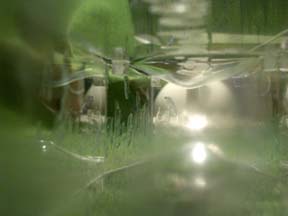 除了大的木棺,還弄了個小膠棺。剛收到主辦單位速遞來的膠棺,覺得很漂亮,可以拿在手上把玩,於是寫了句 "You can hold it!",還把膠溶了個手指位,有些喻意,若死亡好像這個膠棺那樣舉重若輕,又看得透,也不錯。
最後要謝謝主辦單位的安排和做木棺和膠棺的師父,有他們的底坐,我可以集中做創作,也蠻輕鬆、開心的。
Besides the wooden casket, I also made a plastic one. When I receive the plastic casket, I think it is very pretty and handy. Therefore I wrote a sentence on it: You can hold it. I also melted part of the plastic to make a place for the fingers. I wish death is like this, easy to handle and transparent, not difficult to understand.
Last but not least, i wish to thank the arrangement of the organiser and the worker who makes the wood and plastic caskets. Having the bases, I can concentrate on the creative part and that make my work much easier and happier.